Here's a list of all the book challenges I'm participating in. It's a bunch!
Rules:
Read at least 6 books that have any of the following requirements:

a. there is an animal in the title of the book

b. there is an animal on the cover of the book

c. an animal plays a major role in the book

d. a main character is (or turns into) an animal (define that however you'd like).
Book list:
1.
2.
3.
4.
5.
6.
---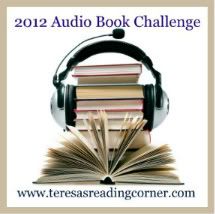 The challenge is to listen to audiobooks throughout the year. I'm signing up for the "Flirting level", which is 6 books. I might be able to do more, but for now, let's keep it simple. I'm going to also include audiobooks where I "read" some part of the book, too, as long as more than 50% was listened to via audiobook.
Most of these will probably be memoirs.
1. Tina Fey - Bossypants
2. Julie Cross - Tempest
3. Ellen - Seriously, I'm Kidding
4.
5.
6.
---
The goal is to read firsts in any series. I have a feeling a lot of these are going to be YA. I'm signing up for the "Series Lover" level, which is 6 books.
1. Angelfall #1
2. Boyfriend List (Ruby Oliver #1)
3. Blue Bloods #1
4. Tempest #1
5. Fellowship of the Ring (Lord of the Rings #1)
6.

I wonder if I can do 12? I'm not sure, so I'll stop at 6, but I'll list my other series as I see fit..

---
The goal is to read books that correspond to a TV show. I'm signing up for the "Mini-series" level, which is books based on 2 different tv shows. I'll probably read a book from the Sookie Stackhouse series, and a book from Pretty Little Liars. I doubt I'll have the patience to read Song of Fire and Ice, but it would be nice.
1.
2.
---
---
---
---